Do you need to provide effective fencing for an open space, but are concerned that the installation of security fencing will look out of place.
If so, steel railings could be the answer, as they can offer security and demarcation of a space, while providing a more decorative, aesthetically pleasing effect.
When steel railings are the solution to your fencing or boundary demarcation needs, Charnwood Fencing are here to help.
Types of steel railings we supply
Steel railings are perfect for parks, public open spaces, and other places of beauty where looks are essential. They can be manufactured at various heights depending on the intended use and required level of security.
Steel railings can be complimented with access gates , the standard finish is galvanized but powder coating in many colours is also available. At Charnwood Fencing, we offer the following steel railings:
Blunt top railing
Vertical top railing
Bow-top railings
Estate railings
Flat top railings
Feature top railings
Maintain aesthetic appeal, order steel railings today
Steel railings can effectively mark out specific areas and potentially increase safety, giving you peace of mind that certain spaces have been sectioned off effectively. In these cases, it might be to stop young children running out of a park and getting into danger, or to stop dogs and other animals entering an area.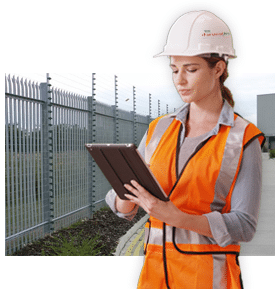 With many years of experience under our belts, the Charnwood Fencing team can offer all types of steel railing managing the project from start to finish and reducing the amount of your time needed to get the job done.
When you ring to discuss your steel railings requirements, you can expect the following:
Free consultation
Free site visit
Free quotation
100% trained and experienced staff
A team which is fully accredited by a number of governing bodies
And that's just for starters…
Get in touch with the friendly team at Charnwood Fencing over the phone or online to discuss what you need and have attractive steel railings for your park or open space set up in no time at all.