Acoustic fencing can be installed where high levels of noise reduction is required.
Types of acoustic fencing
Acoustic fencing can be the perfect solution, in both residential and commercial circumstances, especially where a building development borders on to a residential area. There are two types of acoustic fencing we provide:
Reflective Fencing – Reflective fencing bounces the sound back. It can be used in situations where cost saving is important, or it is one of the requirements of the planning permission.
Absorbent Fencing – This is a more premium option of acoustic fencing, which, while costing more, reduces sound in the yard, as well as in the surrounding area.
At Charnwood Fencing, our acoustic fencing has a density of 10kg per meter squared, offering a potential reduction of 30 dB in a controlled environment.
We've put up enough fencing to wrap around the whole of the UK too, which means you can rest assured our team has plenty of experience. In addition, you can benefit from the following:
Dedicated project manager
Free consultation
Free site visit
Free quotation
100% trained and experienced staff
A team which is fully accredited by a number of governing bodies
Order your acoustic fencing today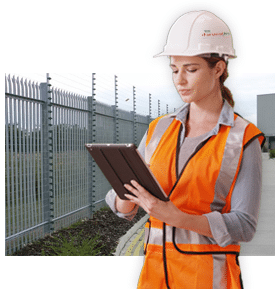 When you know that your project is likely to cause noise and discomfort for those living nearby, it's vital that you comply with planning regulations which often require an acoustic screen, to keep the volume down and contain sound as much as possible.
This solution will keep local authorities and residents happy, while offering you the peace of mind that you have done all you can to minimise disruption and discomfort for those living nearby.
When you need acoustic fencing in a hurry, get in touch with the team at Charnwood Fencing over the phone or online to discuss your requirements and get the problem solved as soon as possible.